"PIER 43" BY PAUL FILIPOWICZ
Fifty years of one nighters and 10 albums. What does a bluesman do next? How about "Old Time Superstition" side guitar and voodoo drums? How about a gut-bucket Howlin' Wolf-style shuffle called "Angel Face"? How about a little old and a little new?
Find all that and more on Filipowicz's 11th album, "Pier 43". A moody guitar instrumental called "Pier 43" which harkens back to Filipowicz's stint tossin' bags and pullin' hides on the Milwaukee longshore docks in the early 1970's. A take on the timeless waterfront sound. Nine fresh tracks and a Mississippi Hill Country track called "When I Get To Town" that is bone rattlin' enough to make you want to boogie and dance all night long, or at least until the cops come.
But wait! Why not throw in a couple of songs featuring Paul's hard-driving band from a live 1979 radio show featuring the one and only Clyde Stubbelfield (James Brown) on drums and Fat Richard Drake on alto sax? You won't be getting that anywhere but here. "Pier 43" proves that Blues with Soul is alive and well in the good old USA.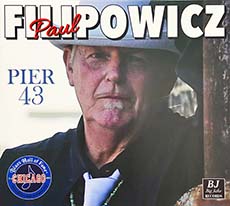 PIER 43 REVIEWS
"If Robert Johnson lost his battle with the devil, you get the feeling that Paul might be a tougher opponent."
- George P. Seedorff, Big City Blues Mag
---
"Paul captures the ragged intensity of Hound Dog Taylor one minute and the dexterous beauty of Magic Sam the next."
- Steven Sharp, Living Blues Mag
---
"Such raw grinding playing I haven't heard in a long time. This captures the spirit of Hound Dog Taylor, ZZ Top, Johnny Winter, and Buddy Guy, but doesn't sound like any of them."
- Bmansbluereport.com