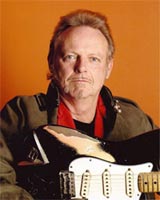 Paul Filipowicz, singer, songwriter, guitarist, harmonica. Born Chicago, IL March 24, 1950. He was raised in the Lockport, Ill. corn fields in the 1950's.
"My sisters played piano in church and of course we all sang there. About the only other music we could get was the radio."
One night while cruising the dial Filipowicz pulled in a radio station out of Tulsa, OK. They played Wolf, Sonny Boy (II) and Muddy Waters back to back. That was his first exposure to blues. He first witnessed live blues in 64 or 65, while waiting outside a club on Chicago's South Side "It was boiling hot about 2p.m. and these people were all dressed up and going into this air-conditioned club." Otis Rush and his band were tearing it up right there in broad daylight. Electric guitar was it! Learning by ear was about the only way to go about a blues education in those days. "I was playing without a pick and the first time I heard Magic Sam it clicked. The phrasing was what I was hearing."
Over the 50 plus years of fronting his own band, Filipowicz has played venues from the mid-west to Denver to stints in Texas and Mississippi. Some of his fondest memories are the shows with "Hound-Dog Taylor" and "Mighty Joe Young" in the 70's.
"That's where I met Ken Saydak, he was with Joe then, I never thought we'd be working together some day". Ken appears with Paul on "Chinatown".
After a version of Sam's "All Your Love" Joe told Paul "That was nice, keep it up". "Mr. Taylor would even grunt when he'd see me". Lefty Dizz "Man he just won a thousand bucks playin cards the night before, did we have a time." Jimmy Dawkins would take Paul aside and give him pointers.
Luther Allison was a great friend. He once told Paul "I know you're a bluesman and you know you're a bluesman and every time you take the stage you got to prove it". "That knowledge is always with me, It seems just like yesterday, I am truly blessed" Paul said. He will make a special guest appearance at the "2004 Luther Allison Celebration" August 15, 2004, "Luther's Blues" Madison WI.
With 10 critically acclaimed CD's under his belt, including two "Top 20 Texas Blues New Releases" in a row (1998 "Never Had It So Good"#14 and 1999 "What Have You Done For Me Lately" #7 Real Blues mag.) Paul's original slashing guitar style has been established and documented.
His 2004 release "Chinatown" is the logical next-step for a bluesman that has over the years warranted comparisons in such publications as, "Living Blues", "Blues Revue", "Soul Bag", "Blues Access" and "Big City Blues", to such a diverse group of great's as John Lee Hooker, Albert King, Buddy Guy, and Albert Collins just to name a few.